Book of Years
Doug Ramspeck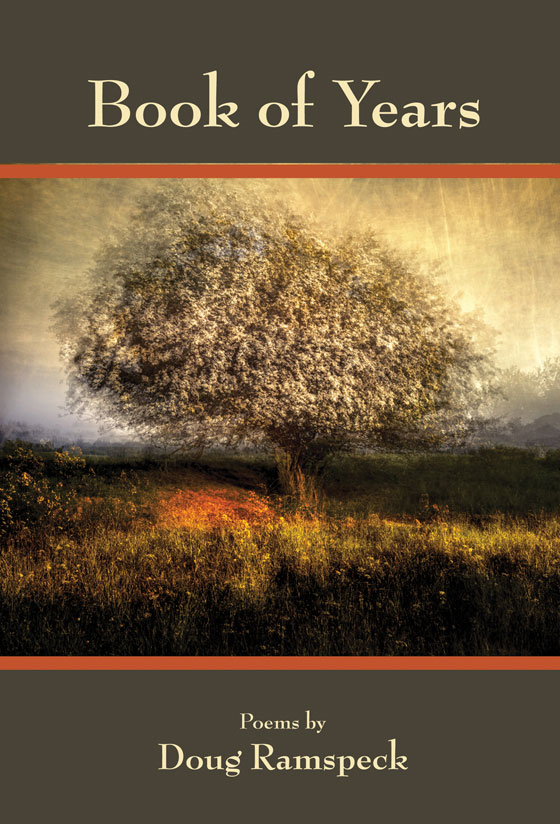 Poems by Doug Ramspeck
Published by Cloudbank Books. Book of Years was the runner up for the Vern Rutsala Book Prize in 2021. The prize is named for a distinguished Oregon poet, Vern Rutsala, who authored more than a dozen poetry books, including The Moment's Equation, a finalist for the National Book Award in 2003.
Praise for Book of Years
The poems in Doug Ramspeck's Book of Years explore, as one carefully crafted lineation effect puts it, "the life of the unmade," and discover "the way a cut flower adorns the temporary" and "clouds/going by like the uncut hair of the dead." The dead, and the past they inhabit, inform the present in this collection in which everything can become "beautiful with forgetfulness." And the living are here too, often in the form of a wife listening, with the speaker, to "the moon/interrogating the land" and to how rain can be "an illusion of speech//against the eaves." These poems are elaborate and evocative constructs that offer insight and, more significantly, consolation, which is something we need, it might be said, now more than ever.
—George Looney, author of The Itinerate Circus: New and Selected Poems 1995-2020
A butchered horse in falling snow; a father teaching his son the brutal rites of manhood; crows, newlyweds, and the "nomad moon"—these are some of the indelible images in Doug Ramspeck's lushly elegiac Book of Years. With a storyteller's perfect pitch and a pilgrim's restless eye, Ramspeck plumbs the ever-present now of memory in poems that are alive to mystery, to the wasp in a glass jar that "keeps humming/a primordial tune…as though all of life is a vibration."
—Annie Kim, author of Eros, Unbroken
A Ramspeck poem is a precise and very considered—intellectually refined and emotionally subtle—project of words. Fresh, yet modest, honest and reflective, his exact attention to his immediate world wrestles the larger meanings from experience; and his music is sure. Book of Years is a truly compelling collection.
—Christopher Buckley, author of Pre-Eternity of the World
About Doug Ramspeck
Doug Ramspeck is the author of eight poetry collections, one collection of short stories, and a novella. A retired professor of English from The Ohio State University at Lima, he lives in Black Mountain, North Carolina.
Order Information
Thank you for ordering from Cloudbank. You will be taken to our parent company's shopping cart to complete your transaction and your receipt will show payment to RubberStampMadness.
To order from Amazon click here.