Long Voyage Gathering Light
John Kooistra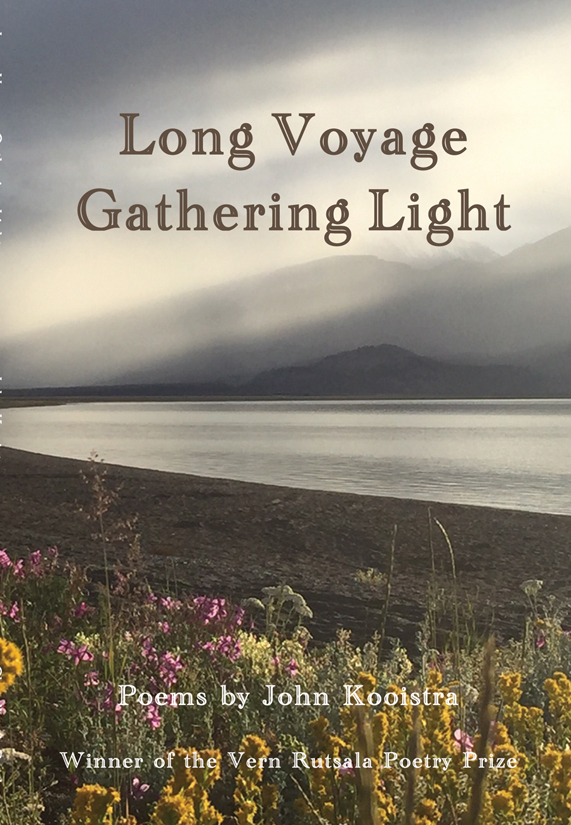 Winner of the Vern Rutsala Book Prize 2021
Praise for Long Voyage from Dan Bourne
Every line in John Kooistra's poetry in Long Voyage Gathering Light, winner of the Vern Rutsala Poetry Prize 2021, is one more step deeper—not just into the landscape of the world but also of the mind. Sure-footed but open to surprise, linked not just to place but the connections between places, these poems do not hesitate to crunch down to inspect a small track in the snow, or to stand up straight to take hold of an epiphany as sudden and miraculous as Elizabeth Bishop's moose.
Though ". . .cars / shrink to nothing / in the long gaps / between yard lights," John Kooistra never sleeps in his voyages between Alaska and Ohio, the past and the present, the deep breathing of ideas and the persuasion of wilderness. Kooistra in his poems always finds those crucial moments when the mind needs to pay attention, "the last of the sunset / flaming like a stained glass window." But he also knows when to shut up and let the world talk: "The sense in all this / I now make a mystery / by asking." A salmon fisher for many years on Cook Inlet, Kooistra also knew how to the repair the engine on his boat to keep himself alive. It's that same ability to take apart and put together small parts into something big and powerful that makes his poems strong for their long voyage. Expertise and patience. Grease and metaphor.
About the Author
John Kooistra grew up in Ohio and gravitated to Alaska after earning a Ph.D in philosophy from Cornell University in 1971. He taught philosophy at the University of Alaska, Purdue University, and the College of Wooster in Ohio, along with fishing commercially in Cook Inlet, Alaska for over three decades. He's served as the artist-in-residence in Denali National Park and for Holland-America.
To read the press release click here
Ordering Information
Thank you for ordering from Cloudbank. You will be taken to our parent company's shopping cart to complete your transaction and your receipt will show payment to RubberStampMadness.